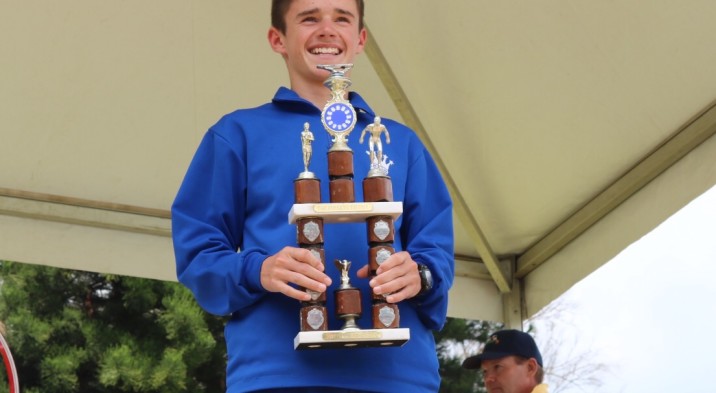 What a way to end off a very successful season – our last event at Mount Pleasant Pool on Sunday was fantastic – the pool complex was buzzing !!  Thanks to everyone who came and raced on Sunday – we did no timings or placings for any of the races with the exception of the Team Challenge event – we had Trikidz and Trisports races as well as Short and Long minis – the Long Mini Team Challenge was very exciting – 15 teams battled it out in the pool, on the bikes and out on the road – the Handicap Challenge Trophy was deservedly won by The H Team – Gabby de Chassart, Alex Colegrave and Matt Denslow – well done guys !!
Prize giving was held after the events – well done to all the little ones in Trikidz and Trisports – after such a long season you always turn up on a Sunday so excited to race – certificates were awarded to the kids who raced 5 or more out of the 10 series races, and thanks to Bratz Basement, they each received another prize – thank you to Audrey and Pam for your sponsorship and support.
The main Series Prize giving was also held, series certificates awarded (quite a few people were not there to receive their awards – please check the list attached and we can make arrangements for you to collect).  Various Trophies were also awarded, congratulations and well done to the following:
PRESIDENTS CUP – FOR PERSEVERANCE – Kieran Magrath
FLOATING TROPHY – FOR MOST IMPROVED WOMAN – Erin Elliott
ROBERTS TROPHY – FOR MOST IMPROVED MALE – Mathew Palmer|CRYSTAL SPA TROPHY – FOR MOST OUTSTANDING FEMALE NEWCOMER – Katie Dilmitis
CIBAGEIGY CUP – FOR MOST OUTSTANDING MALE NEWCOMER – Matthew Denslow
DUMP OF THE YEAR – Andie Kuipers
FAMILY AWARD – Colegrave Family
CHALLENGE HANDICAP CUP – The H Team – Gabby, Alex and Matt
A selection of Albums with loads of photos that were taken by our (un)official photographer, Debbie Colegrave (thanks Debbie !!) – I have uploaded them to our Facebook page – please join if you have not already done so – I will try an upload to the website as well.
On behalf of the Executive Committee and Technical Officials, may we take this opportunity to thank you all for your wonderful support this season, it has been a challenging season but has ended on a very high and happy note.  Our thanks to all of our sponsors, Schweppes Zimbabwe, Hyundai (ADI), Bokomo Weetbix and Snickers, Introwise Catering, Rooneys, Homestyle Bricks and Ilala Lodge – your support is massively appreciated by the Triathlon family.  Our thanks also to the volunteers and support staff behind the scenes who are out on the course every Saturday and Sunday making sure that the roads are safe and as pot-hole free as possible, cutting the grass and clearing the verges and keeping the pool in such great condition.  We are always looking for Volunteers to help out on race days so if anyone would like to get more involved, please get in touch.
The only other item on the agenda will be the Annual General Meeting that will be held later in the year – you are all encouraged to attend – details will be published closer to the time.
Have a great break everyone and hope to see you all in September for and even bigger and better 2017-2018 Season.