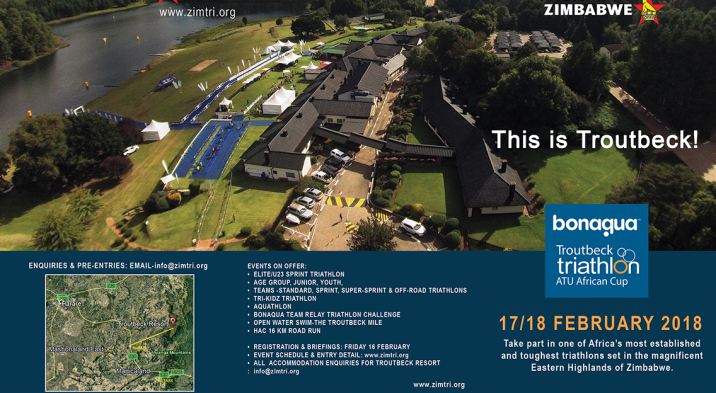 Compliments of the season to you all, hope you had a lovely Christmas and New Year and are gearing up for the last half of the 2017-2018 Season.
We are only 6 weeks away from our flagship event at Troutbeck over the weekend of 17th and 18th February – the 2018 Bonaqua Troutbeck ATU Sprint Triathlon African Cup, Zimbabwe National Championships and the Troutbeck Mile Open Water Swim – plenty of time to do some training and get your entry form in.  For the first time we will be holding an OFF-ROAD TRIATHLON EVENT and … the inaugural TROUTBECK TRIKIDZ event which will be open to all the kids aged between 5 and 12
Please go to the homepage WELCOME TO TROUTBECK 2018 which has been updated with all of the Forms and Provisional Event Day Schedule – please note that the START TIMES are different to past events so ensure that you study the timings carefully.  The website will be updated periodically so please check for updates.
HOTEL ACCOMMODATION
As rooms are on a first come first served basis and open to all triathlon, aquathlon and open water swim competitors please contact me AS SOON AS POSSIBLE to make a reservation – rates are given on the Entry Forms – if you want to book a room please confirm Day of Arrival / Day of Departure plus number of people per room
FOR TIMESHARE ENQUIRIES for our Troutbeck event please do not contact me or the Harare offices – all bookings must be made directly with Tariro Saungweme at Troutbeck Inn Resort – email address tsaungweme@legacyafricahotels.com or cell 0777322777
AWARDS DINNER
Tickets are $30 per head and all are welcome to attend – numbers are limited however so please advise number of tickets required – the Awards dinner is open to all Aquathlon and Open Water Swim competitors
On Sunday 18th February the HAC TROUTBECK RUN will take place so if you have loads of energy left you can enter that race as well
PAYMENTS
Payment of entry fees, hotel accommodation and awards dinner tickets can be made directly to the TZ Cabs Account or to the TZ Ecocash number.  I will do a proforma invoice for those who require one so that you can make a lump sum payment for everything – please get in touch
Our first event at Mount Pleasant Pool takes place on SUNDAY 14TH JANUARY – please pre-register online via the website – go to UPCOMING EVENTS and complete the entry form.
Please feel free to contact email info@zimtri.org should you require any assistance or further information, see you all on 14th January